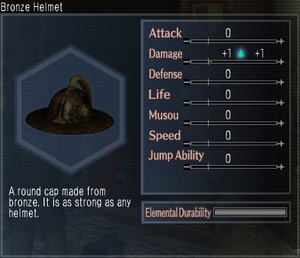 The head slot is used to equip helmets, caps, etc. Each piece of gear has a unique stat increase across all variants. This is considered its "Unique Stat". All high quality versions of gear have a greater increase the same unique stat and a bonus increase in other stats.
In the table below, each piece of gear will have its unique stat(s) listed first, then BONUS denoting how many stats, spread out over how many categories. Bonus stats never overlap with unique stats.
The example above indicates that the particular piece of equipment would have 2 points spread out over 2 stats, or in other words +1 to two different stats.
All items (64)